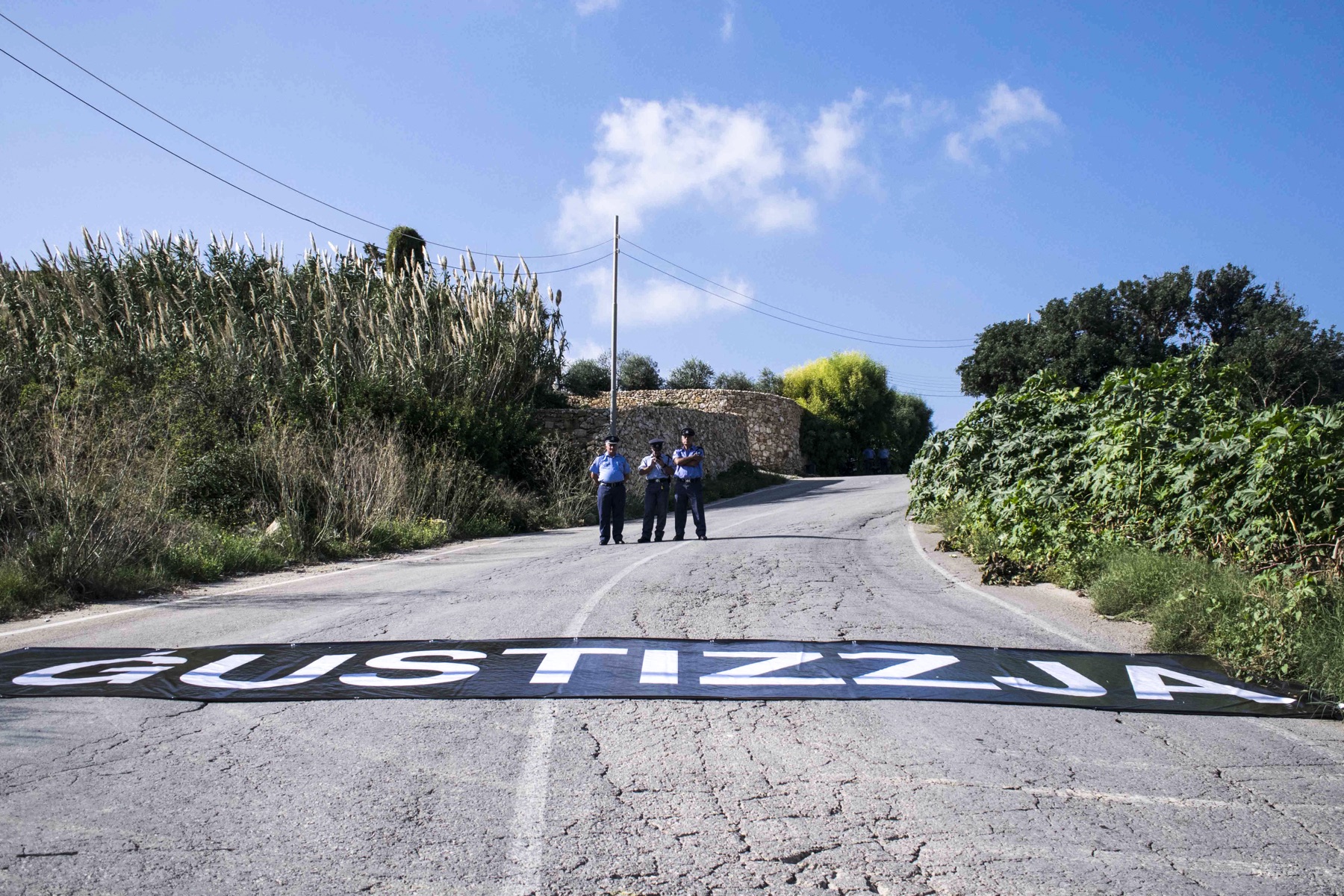 Justice for Daphne, justice for journalism
For Daphne, for her investigations and for journalists and journalism everywhere
Justice for Daphne means knowing who masterminded her assassination and having them brought to justice. This car bomb assassination involves triggermen, middlemen, masterminds and powerful people who expressed a wish or gave an order for Daphne to be assassinated. Every person in that chain of execution must be found and convicted.
Justice also means that Daphne's stories are continued and the people involved in the crimes and scandals she wrote about are brought to justice for those crimes too.
Protest memorial
In one of Valletta's busiest streets, Republic Street, three bronze figures symbolising faith, fortitude and civilisation stand facing Malta's Courts of Justice.
The day of Daphne's assassination, people began to lay flowers and messages at the foot of the monument. A few days later, children from San Anton School walked through Republic Street in her memory. The children, their parents and teachers left flowers, drawings and cards at the foot of the monument.
This marked the start of the monument as a site of protest. The monument, as an emblem of war and remembrance, has become a symbol of the new war wrought on Malta: the assassination of a journalist in a European democracy.
The public inquiry
Our fight for an independent public inquiry was tracked on publicinquiry.mt. The successful campaign finally led to the start of a public inquiry in December 2019.
Within days of Daphne's death, four United Nations experts issued a statement, urging "a prompt, thorough and independent public inquiry and investigation".
No public inquiry was started during the first two years following the assassination and grave concerns were raised by numerous international bodies, including the Council of Europe and the European Parliament, regarding the progress and remit of the investigations underway, and the rule of law in Malta.
In early June 2021, the Public Inquiry board closed the evidence collection phase to begin finalising its report. According to its Terms of Reference, the board will present its final report to the Prime Minister who will table it in parliament within five days. The report will be published eight days after it is presented to the prime minister.
Human rights cases
As Daphne's family we are involved, as applicants, in different human rights cases that arise from the criminal investigation into Daphne's assassination and the advocacy around it.
Our first legal action was taken within hours of her murder, to request that the magistrate who was immediately appointed to hold a criminal inquest into the murder recuse herself. Since then we've won Malta's first right-to-life judgement, confirmed on appeal, and a historic freedom of expression case, also confirmed on appeal.
Legal support in these cases is provided by Dr Therese Commodini Cachia MP, Dr Eve Borg Costanzi at BCGL Advocates and Dr Jason Azzopardi MP. Their work was initially funded by us, Daphne's family, and is now funded by the Foundation.
Criminal cases
Daphne was assassinated when a bomb that was placed under the seat of her car was remotely detonated.
As of June 2021, seven men have been accused of or admitted to complicity in Daphne's murder. One has agreed to a plea bargain, pleaded guilty, and has been sentenced to fifteen years. He and another man are state witnesses. Three criminal cases are in process in Malta's courts: the case against the alleged hitmen is expected to move into the trial phase shortly, the alleged mastermind has been indicted, and the case against the alleged bomb suppliers is at the compilation of evidence stage.
Daphne's family is parte civile in the three criminal cases against the men accused of her murder. The family is represented in court, alongside the prosecutor, by Dr Jason Azzopardi MP, Dr Therese Comodini Cachia MP and Dr Eve Borg Costanzi.
Vexatious libel suits
Daphne had once written that the claimants who were suing her for libel were doing so "as an intimidation strategy as they retreat under siege". She was facing 48 libel suits by the time of her assassination. Her family, inherited the civil libel cases and has had to fight most of them ever since.
Those who filed defamation cases against Daphne include Prime Minister Joseph Muscat, his Chief of Staff Keith Schembri, and Opposition Leader Adrian Delia, as well as their associates and donors, such as Hani Hasan Naji Salah of Sadeen Education and Silvio Debono of DB Group.
Reporters Without Borders monitored hearings in 24 libel cases in a day in Malta in 2018, and saw that "nothing substantive happened" during these. They said that the cases were "a frustrating waste of time for all involved – and just a glimpse of what Daphne Caruana Galizia was facing at the time of her murder".
Legal support in our defence against vexatious libel suits is provided by Dr Joseph Zammit Maempel at GVZH Advocates. His work is independently funded by the same grant from Free Press Unlimited that funds work on the public inquiry.