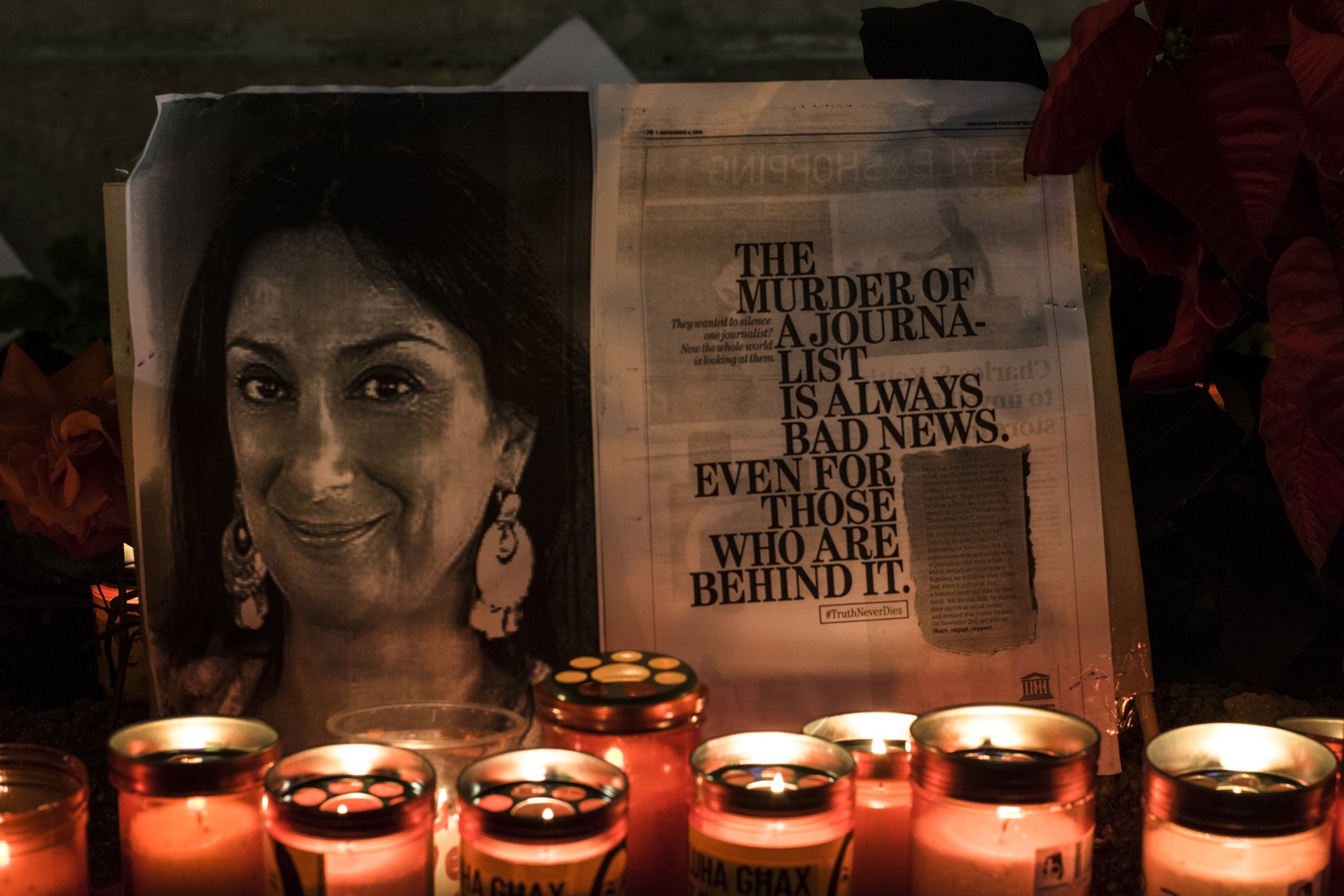 Protest memorial in Valletta
Against the continuing lack of justice for Daphne
"All that is silenced will clamour to be heard" - Margaret Atwood, The Handmaid's Tale.
On Valletta's main street, opposite the law courts, stands a monument commemorating the Great Siege of Malta in 1565. Three bronze figures symbolising faith, fortitude and civilisation stand facing the gates behind which justice is supposed to be served.
This is the site of a protest memorial which is cleared daily by the state authorities. If you are ever in Valletta, please feel free to light a candle or leave a flower there. Acts of protest, however small, are significant and make a massive difference.
How did the protest memorial start?
The day Daphne was assassinated, people began to lay flowers and messages at the foot of the monument. A few days later, pupils, staff, teachers, parents and alumni of San Anton School walked through Republic Street in her memory.
Daphne's three sons had attended San Anton School as children. The pupils, including children below the age of 10, and the other members of San Anton School, laid flowers, drawings and cards at the foot of the Great Siege Monument.
This marked the start of the monument as a site of protest. An emblem of war and remembrance of the struggle of Malta, the monument has become a symbol of the new war wrought on Malta by a network of corrupt officials and their associates.
The protest continues
Every day, new flowers, candles and posters are placed on the monument. New ones are placed because the protest memorial demanding justice for Daphne is cleared on a daily basis, sometimes even several times in a single day, on orders of the Minister for Justice, Culture and Local Government, Owen Bonnici.
PEN International, along with several other press freedom organisations, sent a joint open letter to Bonnici about these orders. His response failed to acknowledge the gravity of the situation.
John Sweeney, the veteran BBC journalist, said during a public lecture on the first anniversary of Daphne's assasination, "The Maltese government can bin the flowers, trash the photographs and snuff out the candles but it can never kill the light that Daphne shone." Sweeney was the last independent journalist to whom Prime Minister Joseph Muscat granted an interview.
Government attempts to stop the protest
Chairperson of the Valletta 2018 Foundation Jason Micallef said in a Facebook post that he opposed the protest memorial. He later twisted and mocked the final words in Daphne's last blog post in another Facebook post. His comments were condemned by some of the most prominent writers in the world, in an open letter expressing their outrage. Margaret Atwood, Yann Martel, Ian McEwan and Salman Rushdie were among the 300 or so writers who signed the letter.
In February 2018, a member of the Valletta local council proposed a motion to remove the memorial. At a rowdy sitting of the council, the mayor ruled that the motion was inadmissible because the council has no jurisdiction over national monuments. The memorial was cleared every day on the orders of Minister Owen Bonnici.
Anyone who placed a flower or lit a candle at the monument was assaulted verbally and sometimes physically, by supporters of the governing party.
Barriers were placed around the Great Siege Monument to prevent people from replacing the stolen flowers, candles and posters on 6 September 2018. Not long after, the entire monument was boarded up and closed off. Minister Bonnici said that this was being done because of "restoration" on the monument. When hoarding draped in yellow fabric was placed around it a few months later, activists took to painting messages onto it.
On 30 January 2020, Malta's Constitutional Court ruled that protestors' rights had been breached. The protest memorial is still in place and refreshed regularly by activists. The case is summarised by Columbia University's Global Freedom of Expression: Delia v. Minister for Justice of Malta Owen Bonnici.
Monthly vigil
On the 16th of every month, a vigil at the protest memorial is held in remembrance of Daphne to remind the masterminds of her assassination that they have not attained the silence they were after and to demand justice for her assassination. The monthly vigils are now organised by Occupy Justice Malta.
People from all walks of life stand together in solidarity to call for justice. Numerous prominent journalists, writers and activists have attended vigils or spoken at the memorial, including the following, listed in no particular order:
Naomi Klein, award-winning journalist and author - "What I find most shocking is the tone of top government officials in Malta… this is happening in the EU and its European Capital of Culture," she said, when she visited the protest memorial. Klein wrote a statement for PEN International about the protest memorial.

Pelin Ünker, Turkish journalist, who said: "I was here this morning to lay flowers at this memorial, that is cleared by your government every single time it is set up. This is something [Turkish President Recep Tayyip] Erdoğan would do."

Ana Maria Garrido Ramos, whistleblower of the 'Gürtel' case in Spain, who said: "There are many cases in the world like Daphne's or like mine, in which the system hits us hard, punishing us for doing the right thing."

Barış Altıntaş, director of Media and Law Studies Association in Turkey, who said: "We can get justice for Daphne as long as we stand together."

Özge Mumcu, daughter of assassinated Turkish journalist Uğur Mumcu, who said: "Daphne will survive. The politicians will go, but Daphne will survive. I know that."

Carlos Torner, director, PEN International, who said: "We told the Prime Minister in person very clearly that he must respect the right to protest and the right to mourn and the right to memory… Nowhere in the world, in the Russia of Putin, in the Turkey of Erdogan, no one would have dared to destroy a memorial so many times. So we tell the government of Malta, do not dare to destroy the memorial that we are building tonight."

Pauline Adès-Mével, RSF, who said: "As part of this call for justice we are supporting the Caruana Galizia family's call to establish a public inquiry into whether Daphne's assassination could have been prevented. This is an essential step both for the pursuit of justice for Daphne and to ensure the protection of journalists and anti-corruption campaigners in Malta.… For every person that gathers in Valletta today, there are hundreds if not thousands of us abroad who support your cause for justice for Daphne and for broader reforms to ensure that this cannot happen to anyone else ever again."

Scott Griffin, Deputy Director, IPI, who said: "Failure to achieve justice for Daphne would be a cruel and unacceptable result for her family, for her friends, and for Malta. But it would also deal a severe blow to journalists across Europe, emboldening those who wish to silence scrutiny and criticism. We cannot allow that to start here in Malta."

Courtney Radsch, CPJ, who said: "There appears to be no meaningful investigation to find the person who ordered Daphne's murder and the authorities seem to be satisfied that they have identified three suspected hitmen. We have told the Prime Minister and the Attorney General that this does not suffice."
For as long as the protest memorial is destroyed, civil society will continue replacing it.
PEN International Poetry Memorial for Daphne
In response to the destruction of the protest memorial by the Maltese government, PEN International decided to create something to remember Daphne that can never be destroyed: a poetry memorial on their website, published in October 2019.
Poets from all over the world contribute to this memorial, which is a symbol of the global call for truth and justice for Daphne. It is proof that words are powerful and a memory lives on within them.