Criminal cases
Our fight against impunity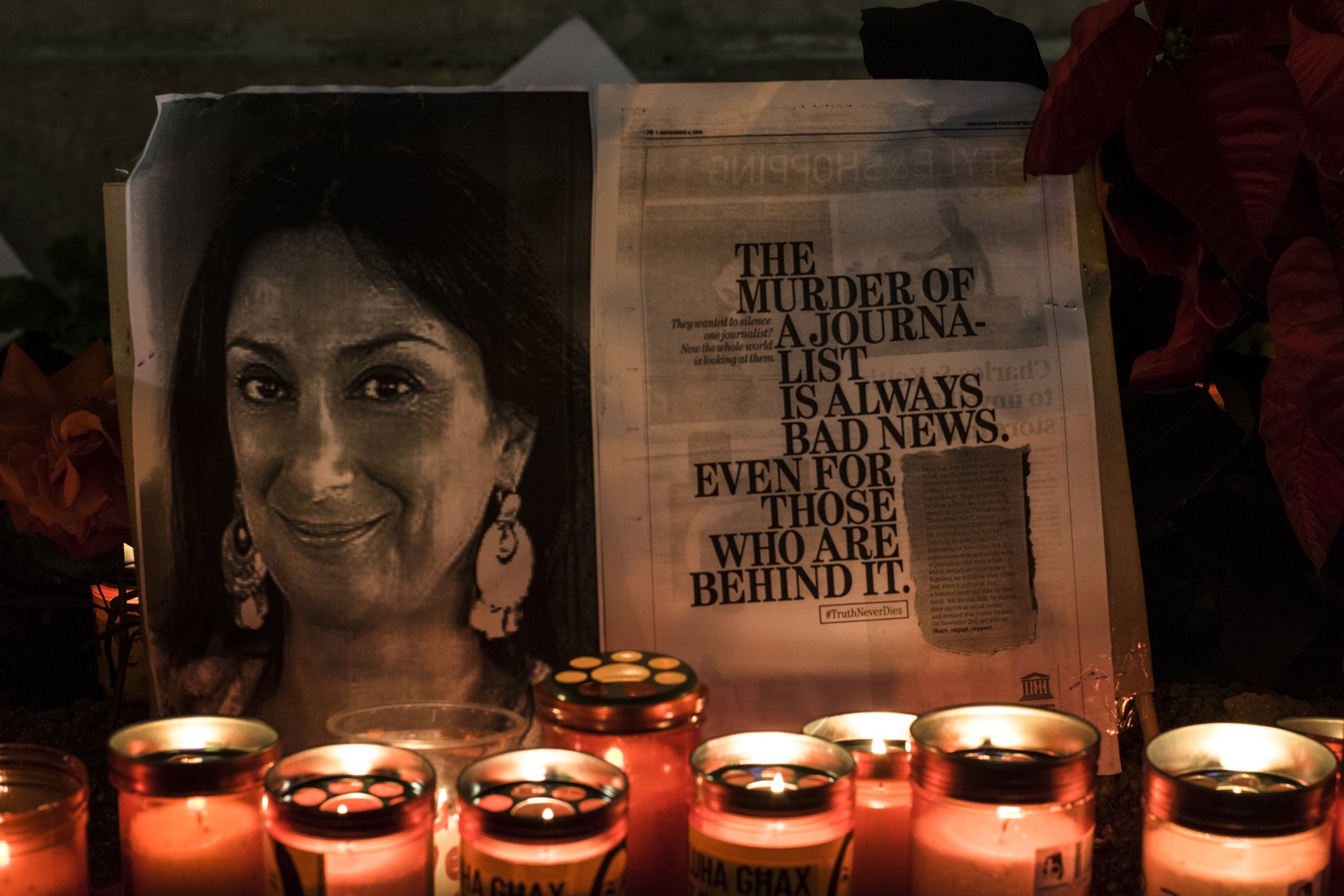 New York prosecutor Robert Morgenthau said, "If you want people to have confidence in their government, you've got to show that people who have economic power or political power are not immune from prosecution."
The Foundation has the interdependent purposes of using criminal law to force accountability and ensuring that it is enforced in Malta to deliver justice for Daphne and for her investigations.
Cases deriving from Daphne's assassination
Daphne was assassinated when a bomb that was placed under the seat of her car was remotely detonated. The fight for those who are culpable for her murder to be prosecuted and convicted is a fight for a functioning justice system.
It is not yet known how and by whom the bomb was manufactured and paid for, who delivered it to the suspected triggermen who have been indicted, who paid them, who the intermediaries and masterminds were, who ordered, commissioned and sponsored the assassination and who might have expressed a wish for Daphne to be murdered.
The case against the suspected triggermen
On 4 December 2017, ten men were arrested in Malta based on prima facie evidence that they played a part in the manufacture, delivery, placement and triggering of the bomb that was used to assassinate Daphne. All are Maltese nationals by birth.
Seven of the men who were arrested were released without charge and three, George Degiorgio, Alfred Degiorgio and Vincent Muscat, were arraigned and remanded in custody. They were finally indicted for murder and criminal conspiracy on 16 July 2019, almost two years after their arrest and arraignment.
All three of the accused men have a history of low-level criminality and have no record of legitimate employment or legitimate economic activity within the past three decades. At no time were they the subjects of any of Daphne's investigations.
Legal representation
Daphne's family is party to the prosecution in the criminal case against three men accused of her murder. A separate case against Alfred Degiorgio, George Degiorgio and his girlfriend, Romanian national Anca Adelina Pop, on money laundering charges, is ongoing. Daphne's family are not party to this case.
In general, legal advice on aspects of criminal law is provided by Dr Jason Azzopardi MP. However, as the accused frequently claim breaches of their rights in a presumed effort to delay proceedings, a significant amount of legal work is done by Dr Therese Comodini Cachia MP and Dr Eve Borg Costanzi. All three lawyers represent Daphne's family in court.
False reports
A report that Maltese criminal investigators had "identified masterminds" was incorrect. While other people who played a role in plot have been identified, and those people have inexplicably not been questioned or charged by Malta's police, they are suspected of being middlemen and not masterminds.
Monitoring
Court hearings of the compilation of evidence against the three men accused of planting and triggering the bomb are monitored by the Committee to Protect Journalists (CPJ).