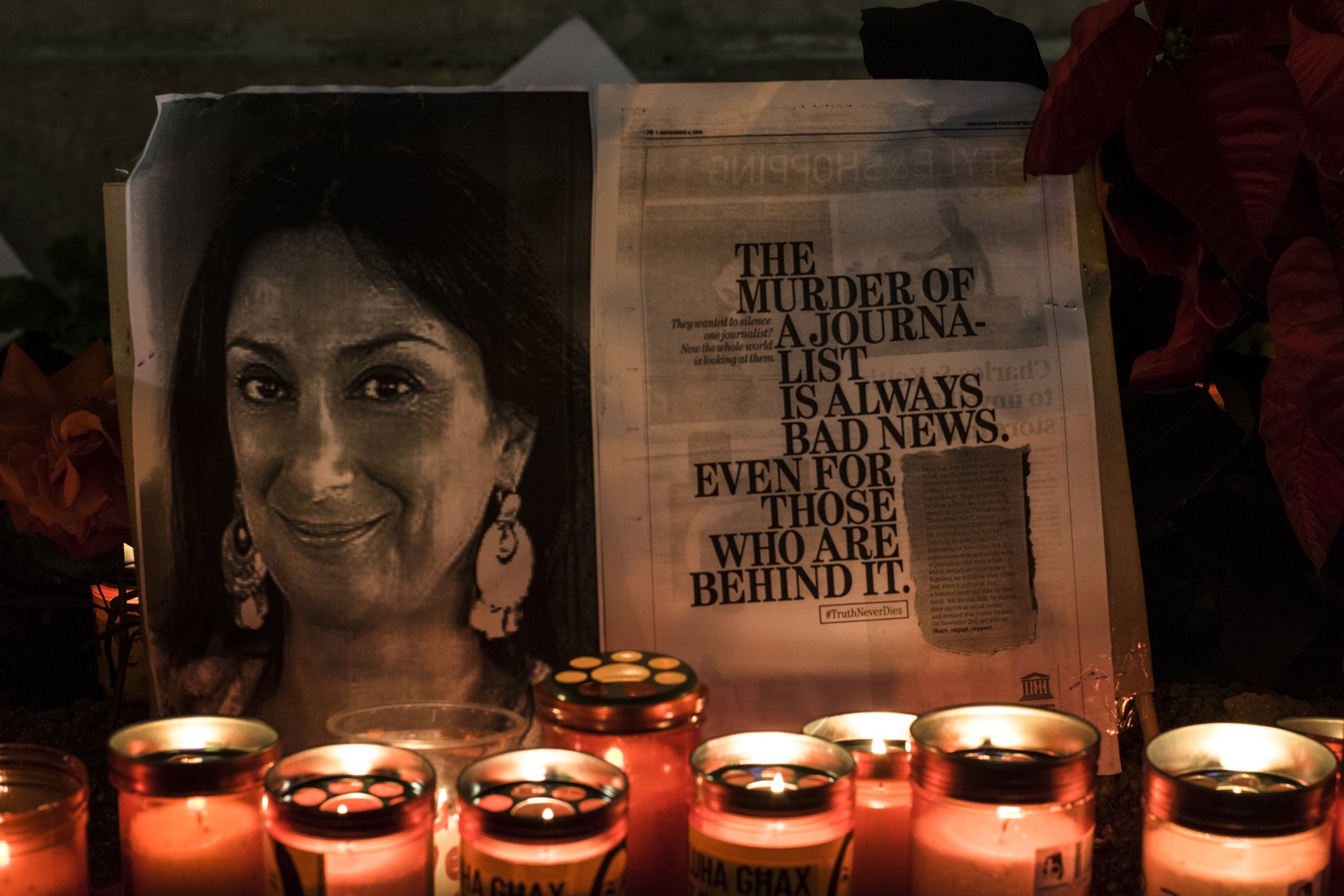 Defence against frivolous and vexatious libel suits
Daphne had once written that the people who were suing her for libel were doing so "as an intimidation strategy as they retreat under siege". She was facing 43 civil and five criminal libel suits at the time of her assassination. Her family have inherited and have been fighting all of them.
Those who filed defamation cases against Daphne include Prime Minister Joseph Muscat, his Chief of Staff Keith Schembri, Minister of Energy Konrad Mizzi, and Opposition Leader Adrian Delia, as well as businessmen such as Hani Hasan Naji Salah of Sadeen Education, and Silvio Debono of DB Group.
We have an updated dataset of historical and ongoing libel cases filed against Daphne.
Thanks to relentless campaigning by NGOs, members of Daphne's family, and the Foundation, the number of pending libel cases has been reduced to five as of May 2021. The plaintiffs in the five remaining cases are all former or current government and public sector officials: the former prime minister Joseph Muscat and his wife, Michelle, the former energy minister, Konrad Mizzi and his wife Sai Mizzi, Mizzi's former personal assistant, Lindsey Gambin, former deputy governor of the Central Bank, Alfred Mifsud, and Special Trade Envoy to the UK, Mario Vella.
Why is this abuse possible?
Legal protections for journalists against vexatious libel suits are generally weak in Europe. They are weaker still in Malta, where libel suits can be brought frivolously, without showing evidence of falsehood, at little cost. The journalist is forced to pay a comparatively larger sum to respond, or they will lose and be forced to pay damages by default because the burden of proof is on the defendant. This permanent threat has led to pervasive self-censorship .
More perversely, libel claims are automatically passed on to heirs upon the death of the defendant. This is how Daphne's family have inherited the legal harassment inflicted upon her by the politicians and officials that she investigated.
We work with lawyers to end the use of strategic lawsuits against public participation (SLAPPs) and vexatious libel suits, and to entrench the principle that, in matters of public interest, the burden of proof in libel cases filed against journalists should be on the claimant. This objective is supported by the OSCE and Maltese media.
The Foundation's director is now a member of the European Commission's Expert group against SLAPP (E03746). The mission of the Expert group is to advise the Commission on any matter relating to the fight against Strategic Lawsuits Against Public Participation (SLAPPs) or the support of SLAPP victims.
Since 2020, the Coalition Against SLAPPs in Europe (CASE) has worked to end the threat of SLAPPs and to expose legal bullying across Europe. The Foundation and the other members of the coalition of non-governmental organisations advocate for an EU Anti-SLAPP directive and a Council of Europe recommendation to protect public watchdogs, and to ensure the full and consistent application of European human rights principles in relation to SLAPPs.
Who supports Daphne's family in this fight?
Reporters Without Borders monitored hearings in 24 libel cases in a day in Malta in 2018, and saw that "nothing substantive happened" during these. They said that the cases were "a frustrating waste of time for all involved – and just a glimpse of what Daphne Caruana Galizia was facing at the time of her murder". The Committee to Protect Journalist, International Press Institute, European Centre for Press and Media Freedom, European Federation of Journalists, and PEN International have also monitored libel hearings.
Legal advice for fighting the libel cases is kindly provided by Dr Joseph Zammit Maempel, with the support of a grant from Free Press Unlimited. Spending of the grant is administered by the European Centre for Press & Media Freedom.
The people who abused the law to harass Daphne
This is an overview that gives an idea of the kind of powerful, dangerous people who were trying to stop Daphne by abusing the law to harass her. Until one or a group of them realised she wouldn't capitulate and they resorted to the nuclear option: a car bomb assassination.
The magistrate rejected for a judgeship
In 2010, Magistrate Consuelo Scerri Herrera, along with her then boyfriend, government advisor Robert Musumeci, filed criminal and civil defamation proceedings against Daphne, forcing the police to prosecute her in the criminal courts. Scerri Herrera withdrew the case in November 2011.
Magistrate Herrera was rejected for judgeship in January 2017 because of concerns about her conduct but accepted on the second attempt, after Daphne was assassinated.
Legal harassment by political appointees
Chairman for the Malta Council for Science and Technology (MCST), Jeffrey Pullicino Orlando, sued Daphne for libel over comments about him written by readers on her blog. He dropped the case after Daphne's assassination.
In June 2016, former Central Bank deputy governor Alfred Mifsud, recently appointed consultant to Foreign Affairs Minister Carmelo Abela, filed a libel suit against Daphne. This was over allegations of corruption and money laundering.
On 5 May 2017, head of the CHOGM 2015 task force, Phyllis Muscat, sued Daphne for libel over claims that Muscat was involved in "kickbacks". She called Daphne's story a "malicious lie".
The Minister of the Economy visits a brothel in Germany
In February 2017, Deputy Leader of the Labour Party and Minister for the Economy, Chris Cardona, and his EU presidency policy officer, Joseph Gerada, instituted four precautionary warrants against Daphne, freezing her assets to the amount of close to €50,000. They did this over her allegations that they visited a brothel during an official visit in Germany. The European Federation of Journalists had said that this would be the first violation regarding Malta reported on the Council of Europe Platform for the Protection of Journalists.
A crowdfunding initiative raised almost €70,000 in just 36 hours to support Daphne in the cases filed by Cardona and Gerada. In a blog post about this, Daphne said that donations also came from individuals in person, including "an old couple [who] took a 90-minute bus ride to donate €5". In the same post, she wrote that the surplus would be donated to Dar Merhba Bik, a local women's shelter, which was "a cause close to my heart".
A hotelier's holiday with a tax commissioner
On 11 March 2017, Silvio Debono of DB Group filed 19 libel suits against Daphne, one for every line she wrote in a blog post about him. Of this case, Daphne had said that Debono and "his outfit" were taking advantage of a law that allowed them to file a separate case for each article or comment, regardless of whether the subject matter and author were the same.
Prime Minister continues to sue Daphne after her assassination
In April 2017, Prime Minister Joseph Muscat sued Daphne over her claim that his wife, Michelle Muscat, was the ultimate beneficial owner of Egrant, a secret company in Panama. At a news conference that he promptly called, he said that Daphne's claims were "the biggest lie in [Malta's] political history".
In May 2018, after Daphne's assassination and a year after Prime Minister Joseph Muscat sued her, the Committee to Protect Journalists (CPJ) wrote to Muscat, asking him to drop the lawsuit. CPJ told the Prime Minister that "continuing to pursue the case… diminishes the credibility of [his] commitment to bringing Caruana Galizia's killers to justice", and also asked him to urge other members of his government to follow suit. On 31 January 2019, Muscat said in court that he was ready to drop the lawsuit if Daphne's family agreed to say that her reporting was incorrect. Daphne's family rejected his offer.
Also in April 2017, current Minister for Tourism Konrad Mizzi (then Minister within the Office of the Prime Minister) and the Prime Minister's Chief of Staff Keith Schembri both sued Daphne for allegations that they had an offshore company in Panama. Mizzi also sued over Daphne's claims that in September 2015 he had visited Pilatus Bank.
Pilatus Bank sues Daphne before FBI action forces it to shut down
In May 2017, Ali Sadr Hasheminejad, owner and chairman of Pilatus Bank, sued Daphne in an Arizona court in his and Pilatus Bank's name. The claim was for US$40,000,000 in damages.
Daphne never knew about the case filed by Pilatus Bank and Hasheminejad and it was withdrawn within a day of her assassination. She was the only journalist to have actually been hit with a SLAPP from the bank because all other independent media outlets in Malta that had been threatened by Pilatus Bank opted to self-censor, modifying or completely deleting their reporting. Threatening letters to media outlets had been sent just 12 hours before Daphne's assassination.
In March 2018, Hasheminejad was arrested and charged with sanctions evasion in the US. The Malta Financial Services Authority removed him from his position at the bank and ordered it to freeze activity. The bank finally had its license withdrawn in November 2018.
Leader of the Opposition's assault on press freedom
In August 2017, during the run-up to the Maltese Nationalist Party leadership election, the current Opposition Leader Adrian Delia sued Daphne four times within a week, over her claims that he was involved in money laundering. He dropped these cases just after she was assassinated.