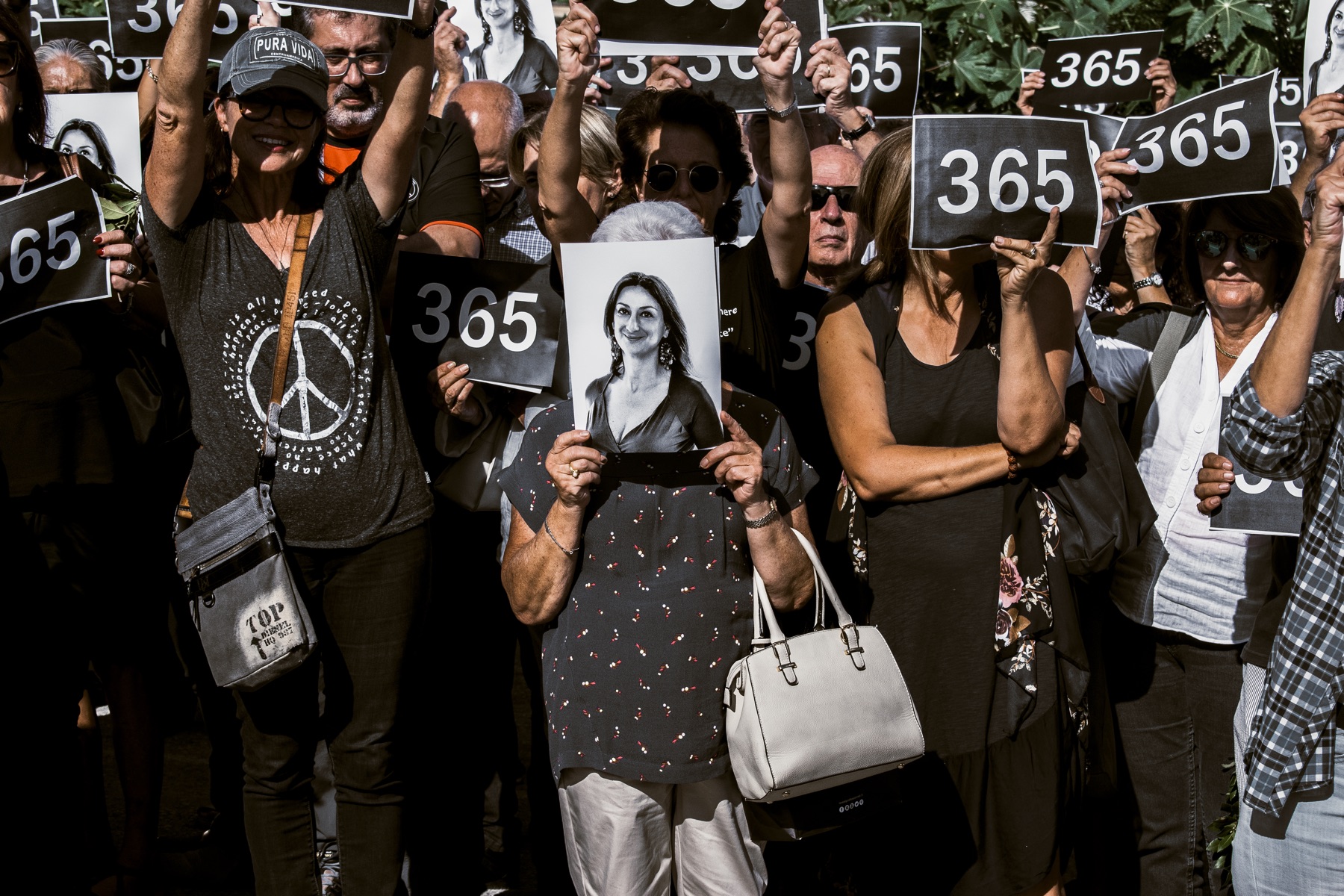 Advisors
Our advisors help direct the Foundation's actions and strategy. They're people with different backgrounds who care about our purposes and who, in all cases, fight for them independently.
This doesn't imply that the people individually named are those who are most active in the fight for justice.
We depend on and are thankful for the support that's been selflessly provided by Reporters Without Borders (RSF), the Committee to Protect Journalists (CPJ), the Rory Peck Trust, PEN International, the European Centre for Press and Media Freedom (ECPMF), the International Press Institute (IPI), Article 19, Index on Censorship, the Media & Law Studies Association (MLSA), Free Press Unlimited and the many different PEN centres, some continuously and some whenever their resources allowed them to. We encourage donations to each of these organisations.
These organisations and the people who work for them are not on our advisory board to maintain organisational independence. Nevertheless they work to support our mission in parallel as we share common goals.
Anne Applebaum
Anne Applebaum is a Pulitzer Prize-winning historian, Washington Post columnist and senior fellow at Johns Hopkins University.
She runs Arena, a joint project of Johns Hopkins Agora Institute and the LSE's Institute of Global Affairs, a programme about tackling disinformation and propaganda in the 21st century.
Applebaum has been an editor and columnist at a range of publications, including the Spectator, Evening Standard and the Daily and Sunday Telegraphs, and has authored several books on the history of the Soviet Union and Eastern Europe.
She has lectured at Yale, Harvard, Columbia, Oxford, Cambridge, London, Heidelberg, Maastricht, Zurich, Humboldt, Texas A&M and Houston universities, among many others.
Deborah Bonello
A freelance video reporter for the Financial Times, AFP and Time Magazine, Deborah Bonello has specialised in investigating organised crime, violence and drug-trafficking in Mexico City for InSight Crime and international media. She is one of the founders of MexicoReporter.com.
Deborah Bonello is a journalist and investigator based in Mexico City, and has reported from Latin America for the last 12 years.
She is currently focused on covering organised crime, drug trafficking and criminal markets for the international media and InSight Crime, a thinktank. She also reports on general news and current affairs for Ozy.com, Vice, the Telegraph and others. Her investigations have included extortion markets in Central America, organised crime in Venezuela and the growth of fentanyl in Mexico.
Before moving to Mexico, Deborah worked as a business reporter in London for ten years.
Bill Browder
Bill Browder is the founder and CEO of Hermitage Capital Management.
He has been campaigning for justice for his lawyer Sergei Magnitsky, who died in prison after exposing fraud committed by Russian government officials, since 2009.
Browder's campaign is driven by the mission to expose corruption and human rights abuses in Russia, and, in 2012, it led to the US Congress adopting the 'Sergei Magnitsky Rule of Law Accountability Act'. Browder is working towards having legislation similar to this Act passed in Magnitsky's name throughout the European Union.
Carole Cadwalladr
Carole Cadwalladr is a journalist for the Guardian and Observer in the United Kingdom. She worked for a year with whistleblower Christopher Wylie to publish her investigation into Cambridge Analytica, which she shared with the New York Times. The investigation resulted in Mark Zuckerberg being called before Congress and Facebook losing more than $100 billion from its share price. She has also uncovered multiple crimes committed during the European referendum and evidence of Russian interference in Brexit.
Cadwalladr's work has won a Polk Award and the Orwell Prize for political journalism, and she was named a Pulitzer Prize finalist for National Reporting in 2019. Of her award-winning work, judge Sir David Bell wrote: She "deserves high praise for the quality of her research and for her determination to shed fierce light on a story which seems by no means over yet. Orwell would have loved it."
Maria Ressa
Maria Ressa is a journalist and CEO of Rappler. She spent twenty years working as an investigative journalist, foreign correspondent and Manila and Jakarta Bureau Chief for CNN, led the news department of ABS-CBN, the biggest news channel on television in the Philippines, and co-founded Rappler.
In 2018, Ressa was one of the journalists honoured by Time and named Person of the Year. She was recognised for her brave work with Rappler, after it was targetted by the government of President Roderigo Duterte with false tax fraud charges in retaliation for its reporting on extrajudicial killings.
Ressa has received a number of awards, including the 2018 Golden Pen of Freedom Award from WAN-IFRA, the 2018 Knight International Journalism Award, the 2018 Free Media Pioneer Award from the International Press Institute, and the National Democratic Institute's Democracy Award in 2017.
Roberto Saviano
Roberto Saviano is an author and journalist who, ever since publishing Gomorrah, an exposé of the Neapolitan mafia, has had to live under police protection for his own safety.
Saviano has received a number of awards for his work, including the PEN/Pinter Prize in 2011, the Oxfam Novib/PEN International Award for Freedom of Expression and the M100 Media Award for Freedom of Expression.
In 2016, Saviano began hosting Kings of Crime, a TV docu-series which centres around the largest and most powerful criminal organisations in history.
In an interview with the Guardian, Saviano said: "I'm on the side of whoever, when they write, knows they will pay a price – losing happiness, often freedom – but continues to write". He mentioned Daphne as one of the journalists he admires the most.
Clive Stafford Smith
Clive Stafford Smith is a human rights lawyer who has spent 35 years fighting on behalf of defendants faced with the death penalty in the United States and around the world.
He is the founder of Reprieve, an organisation dedicated to providing legal and investigative support for free to people "facing execution, and those victimised by states' abusive counter-terror policies - rendition, torture, extrajudicial imprisonment and extrajudicial killing".
Stafford Smith has received a number of awards and honours, including an OBE for humanitarian services and the 2009 International Freedom of the Press Award.